Roller shutters sell homes for more.
And faster.
They do so directly because of:
But they ultimately do so because of their desirable curb appeal – which is key to selling any home.
Let's talk more about:
What is curb appeal in plain English
Why roller shutters add instant curb appeal to any home, and
Why urban appeal is so critical to selling your home!
What is Curb Appeal in Plain English
Curb appeal to your prospective buyer is what makes them want to:
Come inside right now and look!
Specifically, it is  the visual attractiveness of your property when viewed from the street.
Yes, that is right…
It is the perception formed by a potential buyer of your property before they even walk in your door!
And forget about binoculars…
Because it is everything from your:
Front door
Front yard
Garden
Lighting
Mailbox…
To even your…
Eye-catching modern roller shutters!
What is Curb Appeal in Plain English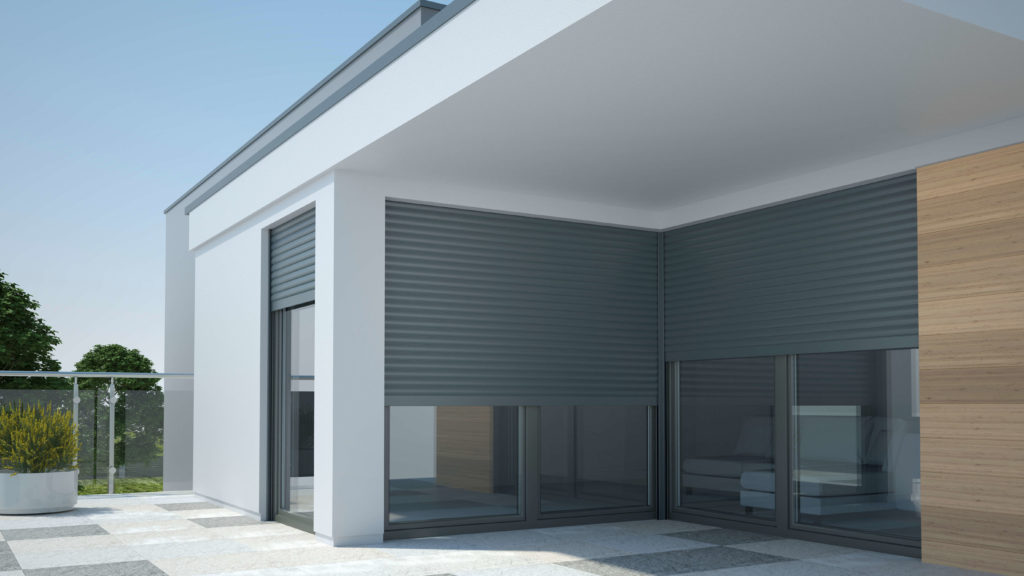 Much like…
Adding a fresh coat of paint to your front door…
Or
Adding container plants to your front porch…
Roller shutters (once installed) not only add 'instant curb appeal' to any home but also do it:
Very cost effectively!
Just get in touch with us for a free quote to find out how cost-effective roller shutters can be.
Sure, you can check out these 6 ridiculously easy ways to boost your home's curb appeal for $200 or less
Or (to get more detailed) check out 40 simple tricks for boosting your home's curb appeal
But ultimately you only have 'seconds' in determining whether your:
Property is worth looking inside!
Roller shutters have the 'distinguishable visual presence' you need that is:
Quickly noted by any prospective buyer in seconds!
And this is most likely because of their knowledge of at least 1 of the 8 ultimate benefits of roller shutters discussed in this blog post.
Because whatever impression your prospective home buyer forms of your home with roller shutters you can be guaranteed that it will be one that is:
Visual (catching their eyes quickly)
Memorable (you need to be), and
Leaves a long-lasting impression (what counts for everything!)
Why Curb Appeal is So Critical to Selling Your Home
As reported by CNBC (here) you need to focus on the areas that prospective buyers will see immediately.
This is your curb appeal!
And according to The Residential Specialist (here) the first impression will:
Set the stage for how the potential buyer will view the house as a whole.
Again, your curb appeal!
Curb appeal matters because it sets expectations.
And expectations create interest that entices buyers to inquire further.
Because after that initial interest is sparked (as reported by CNBC here):
Your buyer will walk in and judge your home in 30 seconds.
Therefore, if you home seriously lacks 'curb appeal'
For example…
By not having roller shutters installed by us…
Then you have extraordinarily little chance of selling it for more and faster!
Conclusion
When it comes to selling your home, you must go straight to the big picture and address:
Your home's curb appeal.
And whilst there are numerous ways to boost curb appeal…
Roller Shutters are a:
Cost-effective, and
No-brainer investment
That adds 'instant curb appeal' to sell homes for more and faster!
You Need The Best Roller Shutters
Looking to Buy Roller Shutters that are Premium Quality??
Looking to Buy Roller Shutters that are the Lowest Prices??
Looking to Buy Roller Shutters that have the Longest Warranty??
Click Here to Read More on our highest quality, highest durability, highest functionality, lowest prices, longest warranty Roller Shutters Right Now!
To Your Property's Success!
Roller Shutter People ~ We Roll for You ~
Location: St Marys NSW 2760
Phone: 0424 607 797